ICC matches and locates currently available roofing or siding material, or identifies if existing material is no longer available and has no suitable match.
Benefits of the ICC Roofing and Siding match program include:
A recognized R&S match solution, if available, from a professional, unbiased third party to assist the Adjuster and Insured to find partial replacement solutions

An unbiased matching test solution protects the insured and the Insurance company.

An ICC test reduces disputes and improves policyholder satisfaction on partial replacements.

ICC R & S Program use demonstrates an initiative to help reduce loss costs on claims save time.

Prevent unnecessary full replacements by better managing the process and your service provider with reliable and accurate information.

Make claims decisions based on a comprehensive database of current and discontinued R & S products
How do I submit a sample?
PHYSICAL SAMPLE – ROOFING
Fold a full asphalt shingle profile to fit into a zip lock bag and send via courier with a copy of the ICC online Siding & Roofing Request Form

Note, we currently can only perform testing on asphalt shingles

PHYSICAL SAMPLE – SIDING
Approximately 1 foot in length that includes the full height of the panel, from the top of the nail hem to the bottom butt edge. If possible, the sample should include a weep hole and the manufacturer's number, which is embossed or printed on the nail hem or back of the sample.

Note, we currently can test vinyl, steel, aluminum, and hard board siding with a submitted physical sample

MOBILE APP
See below for details regarding the mobile app usage for roofing or siding tests.

Note, we currently can test vinyl, steel, and aluminum siding through the mobile app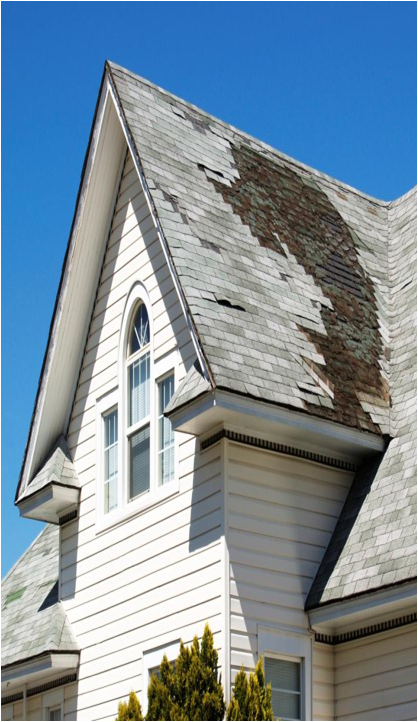 THE ICC
ROOFING & SIDING
MOBILE APP.
Property adjusters and contractors can put the ICC lab at their fingertips with the ICC Mobile Lab app. With the app, you can receive accurate siding and roofing matches direct from our lab within 30 minutes.
The ICC app guides you through taking the necessary photos and measurements for upload to our lab, where every test is performed by an ICC analyst. The app supports siding and asphalt roofing.
Siding and Roofing: ICC will find the best available matches for damaged siding and roofing. Contact info is also provided for the closest distributors.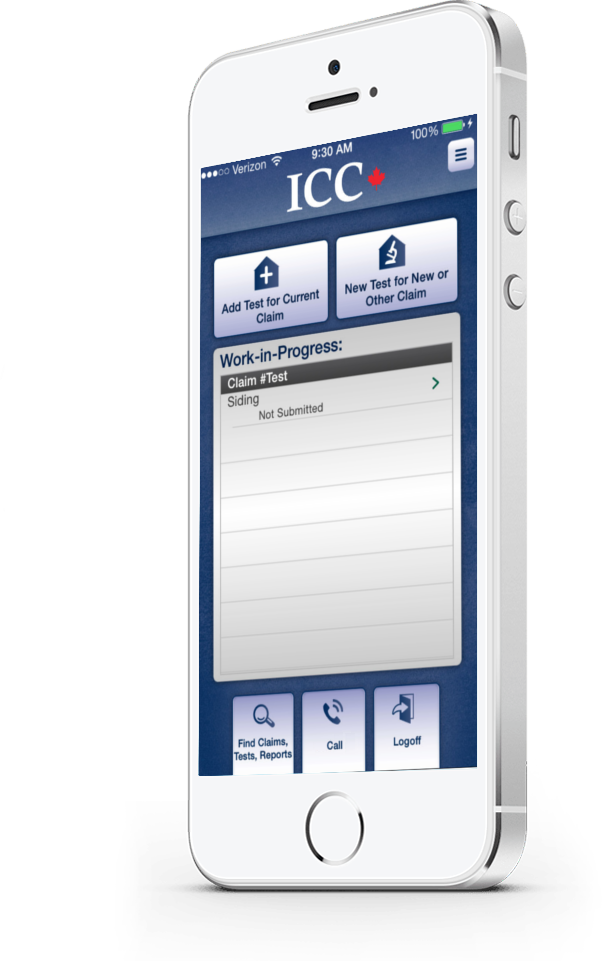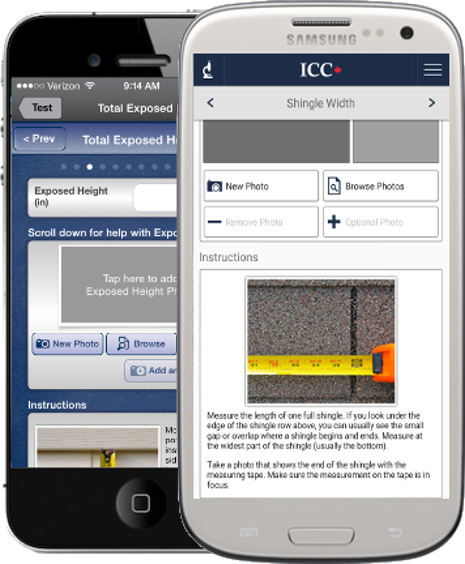 ABOUT THE ICC ROOFING & SIDING APP
The ICC Mobile Siding & Roofing App helps adjusters and contractors quickly identify matches to assist with partial replacement solutions.
Measurements and photos are sent directly from the loss site.
ICC will review and determine the best available match for the damaged material and return all reports as fast as 30 minutes!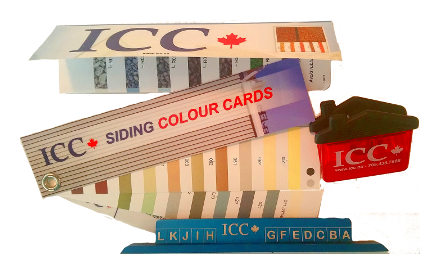 Claim resolution

The siding and roofing match service helps all parties in a claim quickly determine whether the material is eligible for repair.

Fast Results

Submit your samples and get back your report in less than 30 minutes!

Secure & Encrypted

All data transmitted is secured with end-to-end encryption to insure security.

Matching Products

ICC can match siding products with similar specifications and provide names of suppliers (if the original siding is no longer available)
The ICC Roofing & Siding app is available for both the Apple App Store and the Google Play Store
Mobile Toolkit for Siding and Roofing:
Use this kit with the ICC Mobile app to find the best available match for damaged roofing or siding materials. The kit includes the ICC Siding gauge, colour cards for siding and roofing, and a carrying case.
The ICC Mobile Kit Includes:
ICC Siding Gauge – Measures siding Thickness
ICC Magnetic Clip – Determines if metal siding is steel
ICC Colour Cards – Helps determine closest colour match
Case to carry all the items above
Please note that a HAAG measuring tool is required for roofing tests.  You can obtain a HAAG measuring tool from Safety Express in Canada.
What does the report provide?
wpadmin
2018-01-02T08:56:24+00:00
The match report format is the same, as sending in a physical sample. The report will list up to two products that match the originally installed products, matching colours, and provide the location of the closest distributor for those products. In addition, a Homeowner Report is also included and contains information to help explain the repair options available. You will receive your report, uploaded to your device in less than 24 hours or less than 30 minutes after your test submission, depending on which service you have chosen.